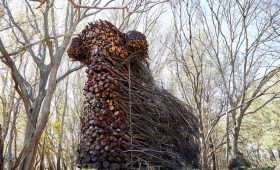 Glinsterjuffertjie uit Swartwattelboom / Glistening Demoiselle out of Black wattle (Phaon iridipennis out of Acacia mearnsii)
From A Place in Time Exhibition 2016, Nirox Sculpture Park, Gauteng, South Africa
Dimension and medium: highX 5meter wide X 8meter long, Approx 10 tonnes, made from black wattle, oil and scaffold.
As you enter Nirox, on your right, there is a clump of trees. Look carefully and you see a giant dragonfly. Standing 6mX5mX10m, it's pixellated: pieces of black wattle are packed, mosaic-like, forming its shimmering compound eyes. Stand near it and its cohesion dissolves. Stand away, and this miraculous creature, Glinsterjuffertjie uit Swartwattelboom by Villa Bursary recipient Hannelie Coetzee (45) jumps out at you.
"It's a drying stack, in preparation for its next use," she says. "I believe if art can't be made to last a thousand years, it has to be reused. When this dragonfly falls over, it will be firewood. The most exciting thing about receiving this bursary is the acknowledgement: for a female sculptor making a temporary work."
Blending environmentally savvy work with mosaic and dry stacking, Coetzee's dragonfly was born. "Black wattle came into the country under British rule – it was planted to serve the mining industry. But today, the trees' thirstiness and the rapidity at which its footprint is expanding are concerns. There's a large plantation of it on a farm neighbouring Nirox.
"The keystone species that returns after black wattle is extracted, from Nirox according to the scientists, is the dragonfly." Coetzee stalled her proposal until she knew it could be sustainable for the community. "Working with Benji is remarkable," she adds. "The more I get to know him, the more he trusts my gut instinct."
Written by Robyn Sassen for the Clare and Edoardo Villa Trust 2016
The research of the sculpture is based on Prof. Michael Samways dragonfly research.
A film of the process by Reney Warrington
Artists Statement; 14 February 2016
"…Contrary to the worldwide trend, … several threatened dragonflies and damselflies in South Africa are recovering, thanks to a successful country-wide program." 1
This artwork tells the story of how the removal of alien invasive trees attracts the charismatic dragonfly to return, with other species to follow, thus restoring biodiversity. I proposed a monumental temporary sculpture, an abstract portrait of a dragonfly built out of extracted alien invasive tree trunks.  It  stands at the edge of the poplar forest at the Nirox sculpture garden gate. Its intended to eerily remind us that we are part of the natural system. Our decisions can make or break the future.
1 Referring to the Working for water program in Samways, M.J. 2005. Damsels get reprieve from distress. Wings. Spring 2005: 18-20.
When I met Michael Samways at a Anthropocene Dialogue at the Stellenbosch Sustainability Insitute in October 2016 he brought it to my attention that not only are these sculptural works conveying the message he has studied, but functionally they serve as very effective insect hotels. Something we need in our ecology where roads and plantations cuts off insect movement.
---
---